In this article we will be discussing about 0.8m wide clothesline options and which is the best style and option for you for a very small wall space of 0.8m wide. 
We will also talk about the different products that are available, the colour options that you can opt for, and of course, installation options if need be.
When it comes to the 0.8m wide units, you have very limited options since it is not a standard size when it comes to clotheslines. 
The unit that we do recommend if you have the space out from the wall of 1.5m, is the Eco Apartment clothesline.
Long and narrow, this model is suitable for even the tightest of spaces inside or outside of your home!
We'd like to highlight that what it lacks in footprint, it gains in quality.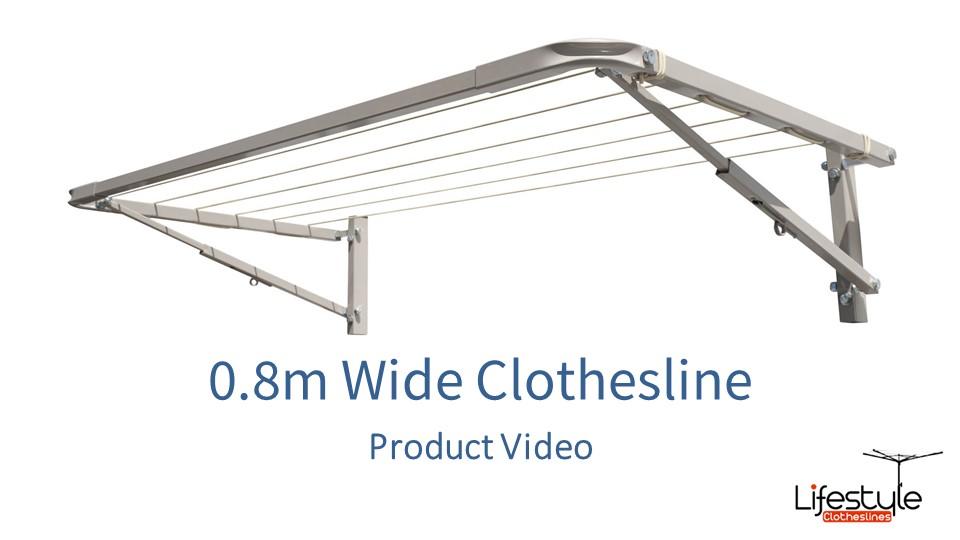 Topics Covered in This Article
This is available in a width of 0.75m and it really maximises the line space in a very small wall area of just 0.8m.
All the lines run at 90 degrees out from the wall so you get to a full line length of 1.5m so as long as you've got that depth out from the wall or probably more like about 1.7m to work with then you can opt for the Eco Apartment.
This is the front view of how that would look:
This is a view from the front of the clothesline when the frame is lifted up, it folds down flat against the wall when not in use--saving you tons of space and lets you utilise the space for other things!
The Eco 120 is Another Space-Saver to Try:
The Eco 120 clothesline is another option that we do recommend. 
This clothesline has a standard width of 1.2, but we can customise the width down to 0.8m at no extra charge.
This clothesline is handy because it does come in five different depth options as you can see below: 
0.6m

0.75m

0.9m

1.2m

1.5m
For example, you could have a clothesline that is only 0.8m wide but the depth from the wall is 1.2m so you will need 1.2m of clearance in front of the clothesline.
Obviously, the lines would be very short but that sort of option is available with this type of product if you do not have a very large space for a model with much longer depth off the wall.
Eco Unit Line: Compact and User-Friendly
As shown up there, that is what it would look like from the side. You can see the sturdy full-steel construction and steel tubing against the wall brackets. 
All of the Eco clotheslines we have are of very high-quality, full-steel construction, and are made in Australia. 
One other option is the Eco Unit Line clothesline. 
This variant of the Eco Unit Line is 0.8m wide by 0.75m, this is a handy clothesline as well with just eight lines on it but it's a great unit for lots of different options.

It has the wire struts on the side to hold it up, simply unhook those from the side of the clothesline if needed. 
The way it mounts is a bit different to the Eco 120, so you've got some other options there for installing it in smaller areas.
When you don't need the Eco Unit Line, you can just fold it flat to the wall, and that's what it would look like if it was mounted on a wall. 
Eco Clothesline's Colour Range
The colour options with Eco Clotheslines are quite a few, you've got 10 standard colour options that we offer. 
All of these are pretty much in the modern COLORBOND colours but if you do prefer anything that is sort of outside this colour range, we may be able to help.
Just give us a call and we can talk about your colour options, we will gladly get you a model in the colour you prefer. 
But, generally, we find that these 10 colours pretty much suffice when it comes to the requirements of our customers.
When it comes to 0.8m wide clotheslines, our recommendation is the Eco Clotheslines range. 
These are handmade in Australia the old-fashioned way.
They boast a full-steel construction made from Australian GALVABOND steel which are then powder-coated in the colour that you choose to fit in with your home and styling requirements.
That full-steel construction we are referring to means that these clotheslines are built to last for many years, and they're available in a big range of modern colours. 
If you do need any customisations when it comes to width—for example—you wanted to go with the Eco 120, and you want it at 0.85m, we can modify that in the factory before it comes out for you at no extra charge.
If you do need help with installation of your clothesline unit, Lifestyle Clotheslines does have a full installation service Australia-wide. 
You can order that on any of the Product pages, or you can also call us and order that over the phone if you need that assistance. 
All of our products also come with our 100-day happiness guarantee just to make sure that you're fully covered in relation to the product and that you are going to get the right one for your home situation.
If you need any further information, tips, or advice on finding the ideal clothesline at 0.8m, please feel free to call on 1300 798 779.
You can visit our website as well at www.LifestyleClotheslines.com.au