Learn about the best 0.6m wide clothesline models suitable for narrow spaces and compact homes like apartments, condominiums, cottages, and many more.
Also, find out which model of narrow clothesline will suit your needs best by simply watching the video below and reading the rest of our post!
In this article we will be talking about 0.6m wide clothesline products, and which models we think are gonna be the best options for those of you who want an airer in a very narrow 0.6m of space. 
We will be covering a number of things which include the product options we have got, the colour options, and some installation situations where you may discover where you would want to put these clotheslines in.
The first product we want to talk about is the Eco Apartment clothesline.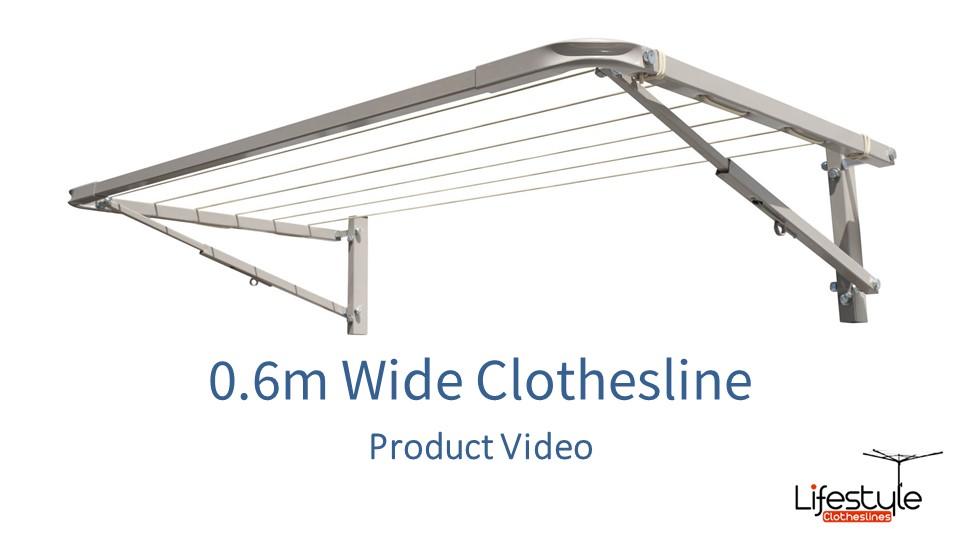 Topics Covered in This Article
For starters, the Eco Apartment clothesline has width of 0.52m, hence you have a clothesline with a very compact footprint suitable for very narrow wall space of around 0.6m.
There are limited options for this since this not a standard size clothesline that most manufacturers offer.
The Eco Apartment is one we recommend for those very narrow areas and as long as the space has a 1.5m clearance for the top frame to swing out, you are pretty much all set.
This one is the best use of the linear spaces around the home because you get to maximise the very long line length despite having a very narrow wall. 
For the Eco Apartment with 0.52m size, you get 8 lines, and the clothesline comes 1.5m out from the wall so what this means is you get a lot of line space to use in a very small area. 
Front View of the Eco Apartment:
You can see how the lines would all run out from the wall. Again, it's a great model that can be used to really maximise a very small wall area.
The best part is it folds flat against the wall when you don't need it—letting you take advantage of space when need be.
Another Suitable Option for Narrow Walls is the Eco 120:
The Eco 120 is another option with a format more akin to a traditional wall mounted clothesline. This one folds flat against the wall as well when not in use since every bit of space saved counts!
The standard size of the Eco 120 is 1.2m, but we can customise it down to 0.6m for you at no extra charge. With this one, you do get a number of options as well. 
You can see the full steel construction of this one in the photos. It's all full steel tubing, and it's Australian galvanised steel which is then powder coated in the colour that you choose for the ultimate longevity of your investment!
The line space does change as there are five depth options, compared to a typical wide fold-down, narrow clotheslines like the Eco 120 and Eco Apartment the length of the frame from the wall is what dictates the line length.
So with the Eco120, you get to choose from five sizes—all of which are  0.6m across the wall but the depths are as follows:
Eco Unit Line: Sturdy and Space-Friendly
The Eco Unit Line is another great compact clothesline that does not sacrifice on space. It has a standard size of 0.8m width-wise but this one can be modified down to an even narrower 0.6m if you prefer. 
Eco Clothesline's Colour Range
Should you require it, the Eco Unit can be sized to have a width of 0.75m as well across the wall giving you additional space and better airflow between garments.
For all of our Eco Clothesline models, we have 6 standard colour options for you to choose upon checking out of our online portal. If you do need something outside of these 6, we may be able to help just let us know! 
As we have mentioned earlier, these are are all the standard COLORBOND® colours that add an extra layer of protection against bumps, scratches, and corrosion and will match any home exterior seamlessly.
When it comes to 0.6m wide clothesline products, our recommendation is the Eco Clotheslines range.
These are handmade in Australia the old fashioned way, so they're not a mass produced product, they're a limited run, so they are fully built the old way with durable galvanised steel and will certainly last for a very long time.
Frankly, here at Lifestyle Clotheslines, we believe that clotheslines made in Australia are made so much better and stronger. 
Aussie-based companies like Eco know how harsh our climate can get and how we use our clotheslines so these things are engineered specifically for the Australian market.
If you do need any help with installation, Lifestyle Clothesline does have a full installation service in the whole of Australia, you can pretty much select our installation service on any of the clothesline product pages. 
All of our products also come with our 100-day happiness guarantee.
If you are not happy about anything with the product you have purchased from us or you if you simply need a different clothes airer than the one you have chosen, you can call us up and we can pretty much sort something out for you as long as it is within the scope of our guarantee!
If you have further inquiries or requests, perhaps a bit of help looking for the right washing line, you can call us on our phone number at 1300 798 779 to speak to one of our clothesline experts.
You can also visit our website at LifestyleClotheslines.com.au to view any of the products we have discussed here!