Best Rotary Clotheslines in 2023
If you want to know the best rotary clothesline for your home in 2023, you've come to the right place.
We know that there are so many options out in the wild right now so it can get pretty overwhelming.
No worries, we've scoured the internet for ratings and reviews to find out which rotary clotheslines deserve the spotlight.
Keep reading to get started!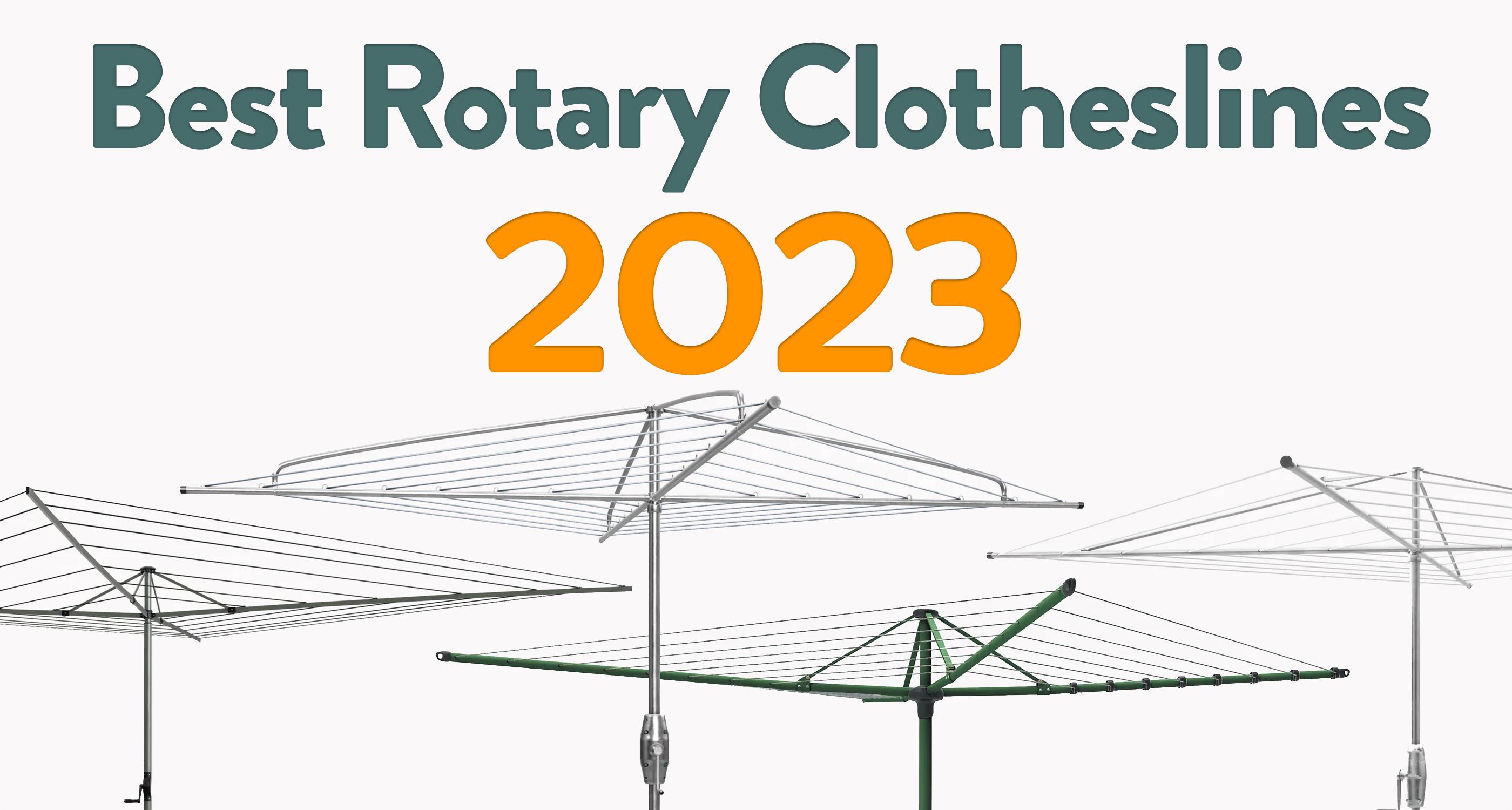 A rotary clothesline or hills hoist is an outdoor unit used for drying laundry, it is comprised of a central pole or column that is anchored into the ground.
It several arms or lines that radiate from the top of the pole--the key feature being the hoisting mechanism which other types of clothesline don't have.
Thanks to this special feature, the rotating top assembly can be raised or lowered to accommodate various sizes and quantities of laundry.
This system also helps "catch" the wind for faster, more even drying and makes it convenient to hang laundry since the lines can be lowered in a jiffy.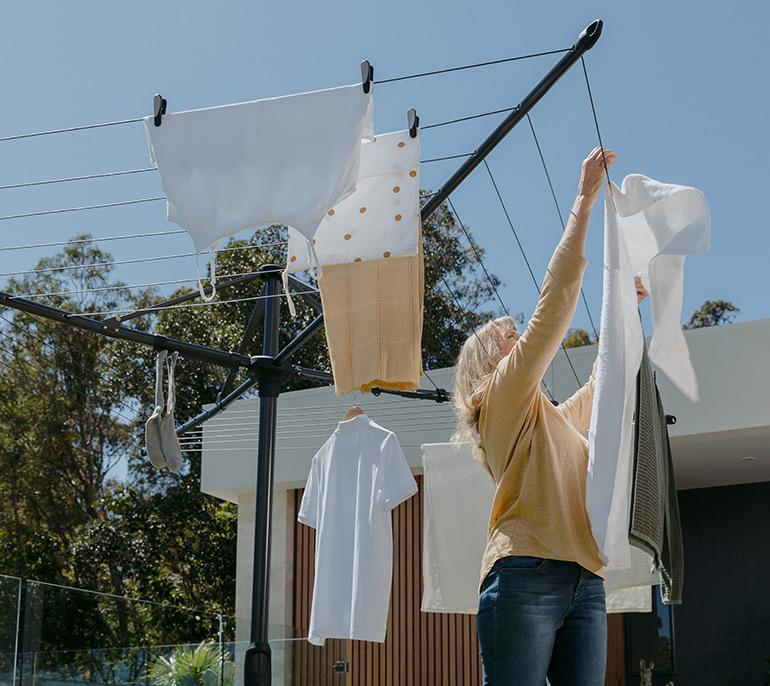 Rotary clotheslines are popular in areas where space is limited, as they offer a large drying area without taking up much space.
A rotary clothesline is a great way to dry clothes while saving on energy cost which makes it a great alternative to the tumble dryer.
In this article, we will talk about the best rotary clothes hoists out on the market based on price, customer reviews, and experts' opinions.
Factors to Consider When Choosing the Best Rotary Clothesline
Size and Capacity
The appropriate size of a rotary clothes line largely depends on how much washing line space or hanging space you will need.
A rough estimate is to allocate at least 10-15 meters of line space per person, meaning a household with four adults would require a minimum of 40 meters of line length.
It's essential to consider the weight capacity of the clothesline model you are interested in to ensure that your new clothesline line will last a long time.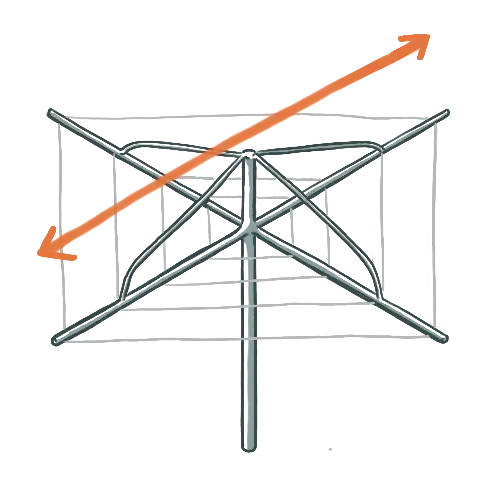 Before deciding, review the detailed specifications of the clothesline you will purchase (mostly if your household are on the larger side) as bigger wet clothes and towels mean heavier loads.
The footprint is another aspect to consider when comparing a standard fixed rotary clothesline to a folding rotary clothes hoist.
Wider models that can accommodate king sized sheets will, of course, require more space. Rotary clotheslines in general, require ample outdoor space due to their width and are more suitable for installation in big gardens or yards.
Material and Durability
Cheaper clotheslines made of plastic or lightweight steel coated with PVC may accumulate moisture underneath and are prone to breaking.
This leads to rusting resulting in a compromised structural integrity of the clothes line over time.
This can be especially problematic if you live near the coast or in a very humid region where storms occur frequently.
Premium clotheslines are made of durable galvanised steel tubing with or without powder coat paint that's resilient to moisture and rust.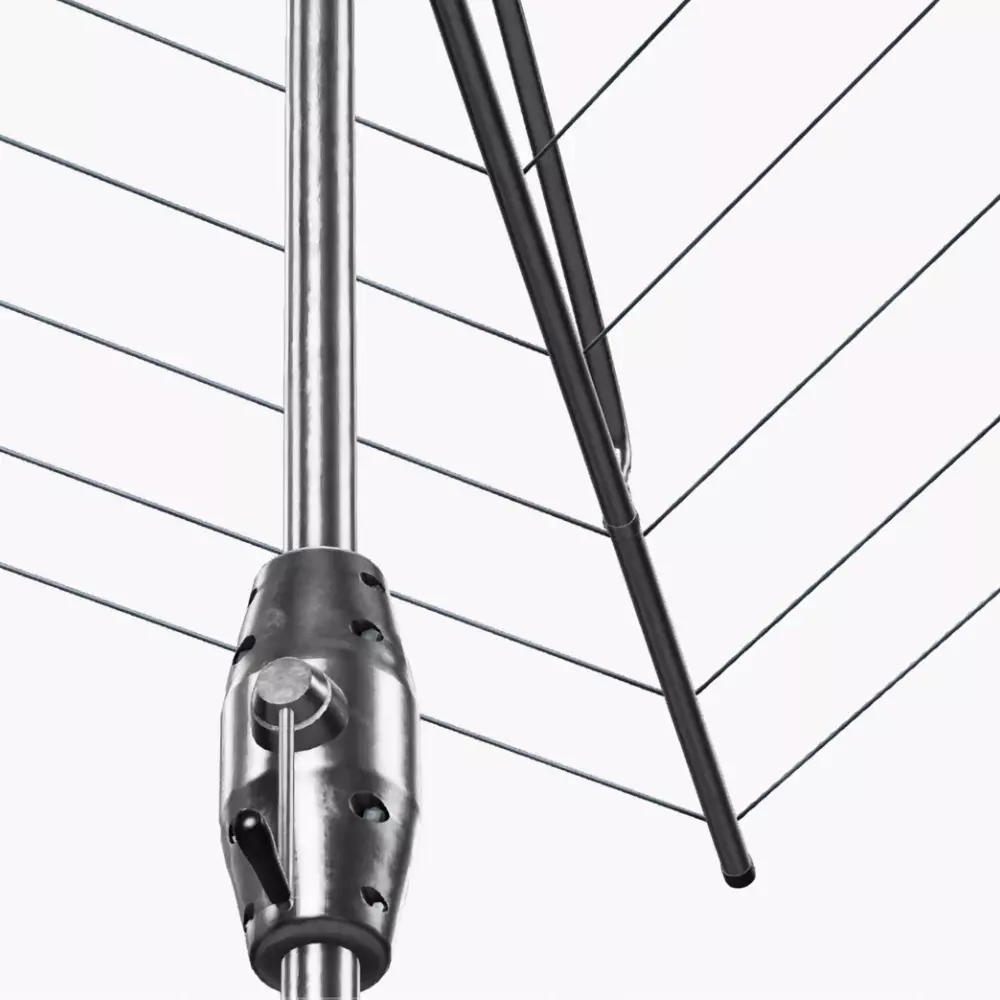 These high-end clotheslines are very sturdy and hard-wearing which makes particularly suitable for those living in coastal or rainy regions.
Furthermore, Australian-made foldable clotheslines are known to be of higher quality than imported ones (such as those from China).
As a result, if you want peace of mind, choose a unit made by a reputable Australian brand like Austral.
Hills Hoist may be an exception to the rule even if their manufacturing facilities are situated in China largely due to their stringent quality control measures.
Ease of Use and Installation
A really good quality clothes hoist doesn't just provide heaps of drying space, it should be very easy to use as well.
Thanks to the integrated hoisting mechanism, rotary hoists by themselves are inherently convenient to use.
A cheap rotary clothes line usually have gear mechanisms that aren't user friendly and don't operate smoothly due to the lacklustre quality of the components.
Some folding rotaries also have very stiff latches that make it hard to fold the top assembly when you want to store it.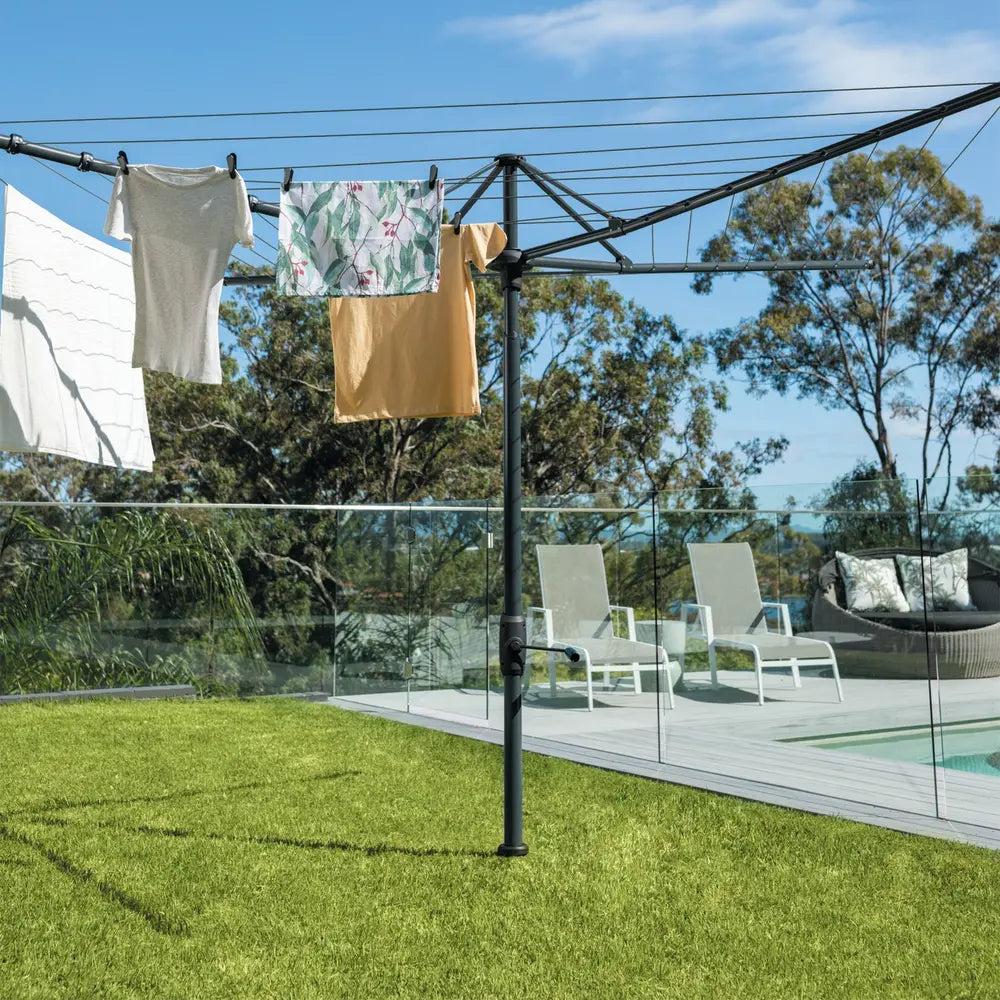 Pay attention to these features when you purchase a new clothes line, these things will matter because you will be using them frequently.
On another note, it's not impossible to have a rotary clothes line installed by yourself, with a bit of research and determination it can certainly be accomplished.
If you are an avid DIYer then have a look at this article before you get started: "How to Install a Clothesline", that article has all the information you will need to get the job done.
Price and Value for Money
"If it's too good to be true, then it probably is."
It is easy to think that cheaper clothes lines offer greater value for money, unconsciously overlooking the little things that matter when it comes to choosing a good clothes hoist.
Yes you can save a few hundred dollars settling for these cheap alternatives but how long will they actually last?
Those things barely last more than five years.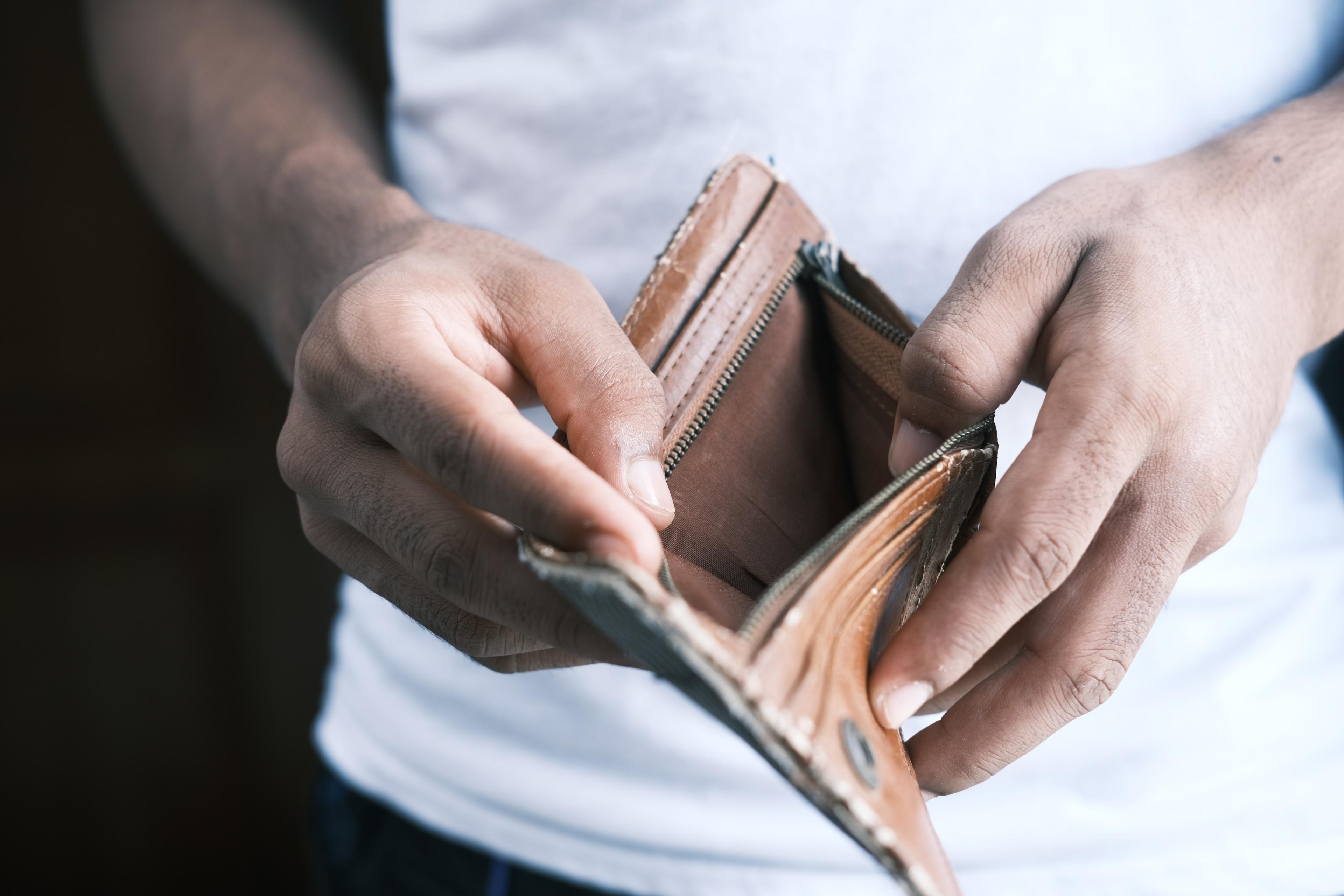 If you factor in the professional installation costs that need to be redone in the near future and the sudden inconvenience brought by a broken clothesline--then it starts to make sense.
The rotaries offered by Hills and Austral are actually very reasonably priced considering what you are getting and they often go on sale multiple times a year.
Truth is, these brands offer the best value for money given their proven reliability track records--they could probably even outlast your house if well cared for.
The Best Rotary Clotheslines in Australia
1. Austral Super 4
When it comes to fixed rotary clothes hoists, the Austral Super range is a formidable beast that's capable of trouncing even well-known brands such as Hills--if we're being honest.
Fully galvanised steel frame and lines, ample space for hanging laundry, and components engineered to endure extreme weather, this 101% Australian clothesline is a must-have.
This model has an average rating of 5 out of 5 stars online.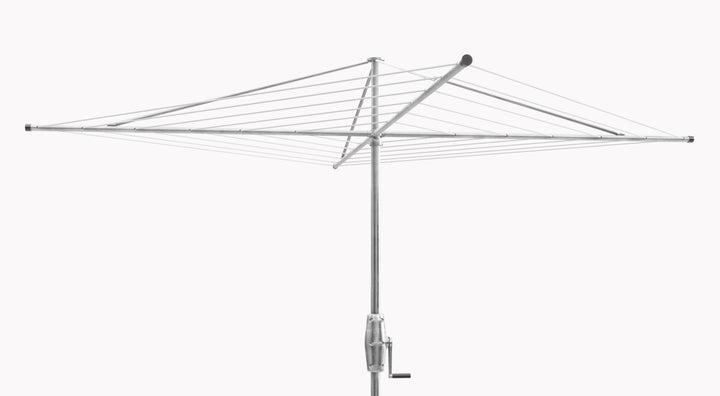 2. Austral Super 5
A bigger version of the Austral Super 4 with more drying space for larger families, this sturdy rotary clothes hoist has plenty of room for all your washing line needs.
Durable galvanised steel frame that can withstand strong winds and extreme temperatures, renowned Austral reliability and proudly Australian made. The Austral Super 5 is a winner.
This model has an average rating of 5 out of 5 stars online.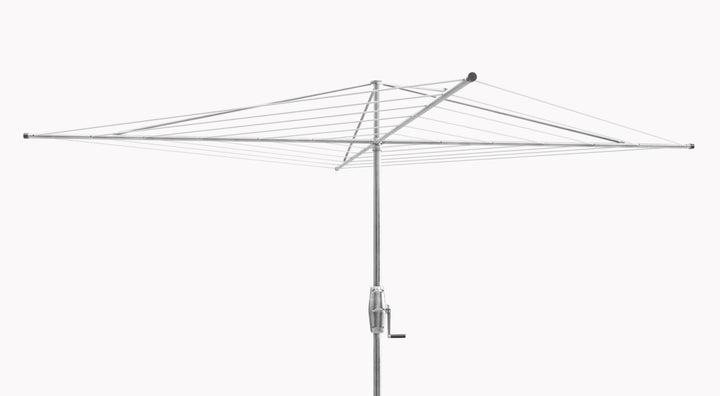 3. Hills Hoist 8 Line Rotary
A revamped take on the classic, the Hills Hoist 8 Line rotary is better than ever with a sleeker look, better durability, and improved user friendliness.
Offering huge capacity in a foldable and removable design suitable for larger families--effortless clothes drying without compromises, even comes with a lifetime warranty.
This model has an average rating of 4.9 out of 5 stars online.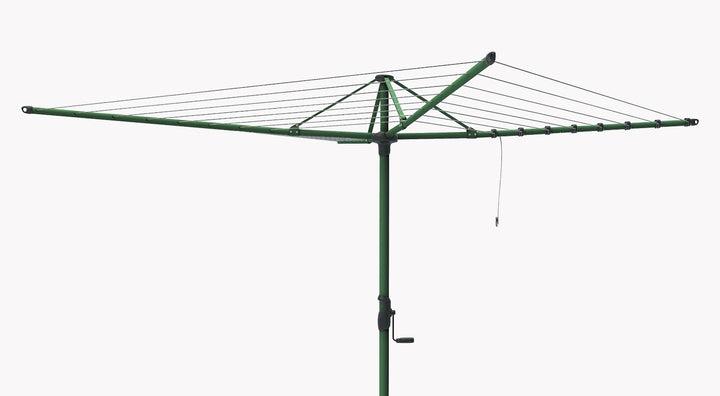 4. Hills Hoist Heritage 6
The Hills Hoist Heritage 6 is recognised as the most iconic rotary clothesline on the market, renowned for its exceptional quality and durability.
The legendary reputation of the Hills Heritage 6 lies in its dependable design, sturdy construction, user-friendliness, plus the convenience of readily available replacement parts.
This model has an average rating of 4.8 out of 5 stars online.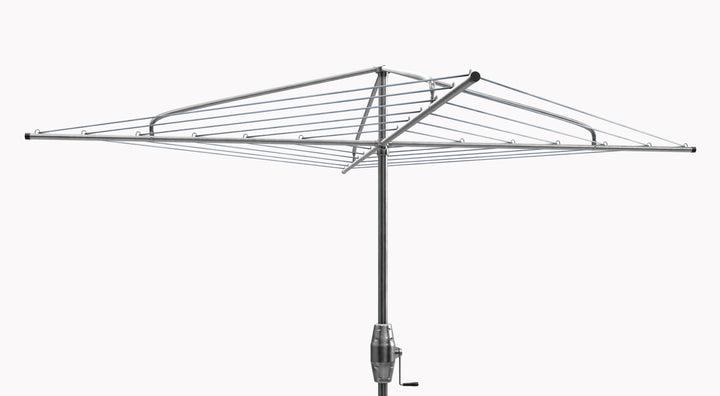 Benefits of a Rotary Clothesline Cover
To get the most out of your rotary clothes line, you might want to invest in a rotary clothesline cover for utmost peace of mind.
A good quality clothes line cover will protect your clothes from rain when you are not around or if there's a sudden call at work that needs to be addressed right away.
Not only will it keep your freshly washed garments from getting wet, it also prevents premature fading due to intense heat and UV rays.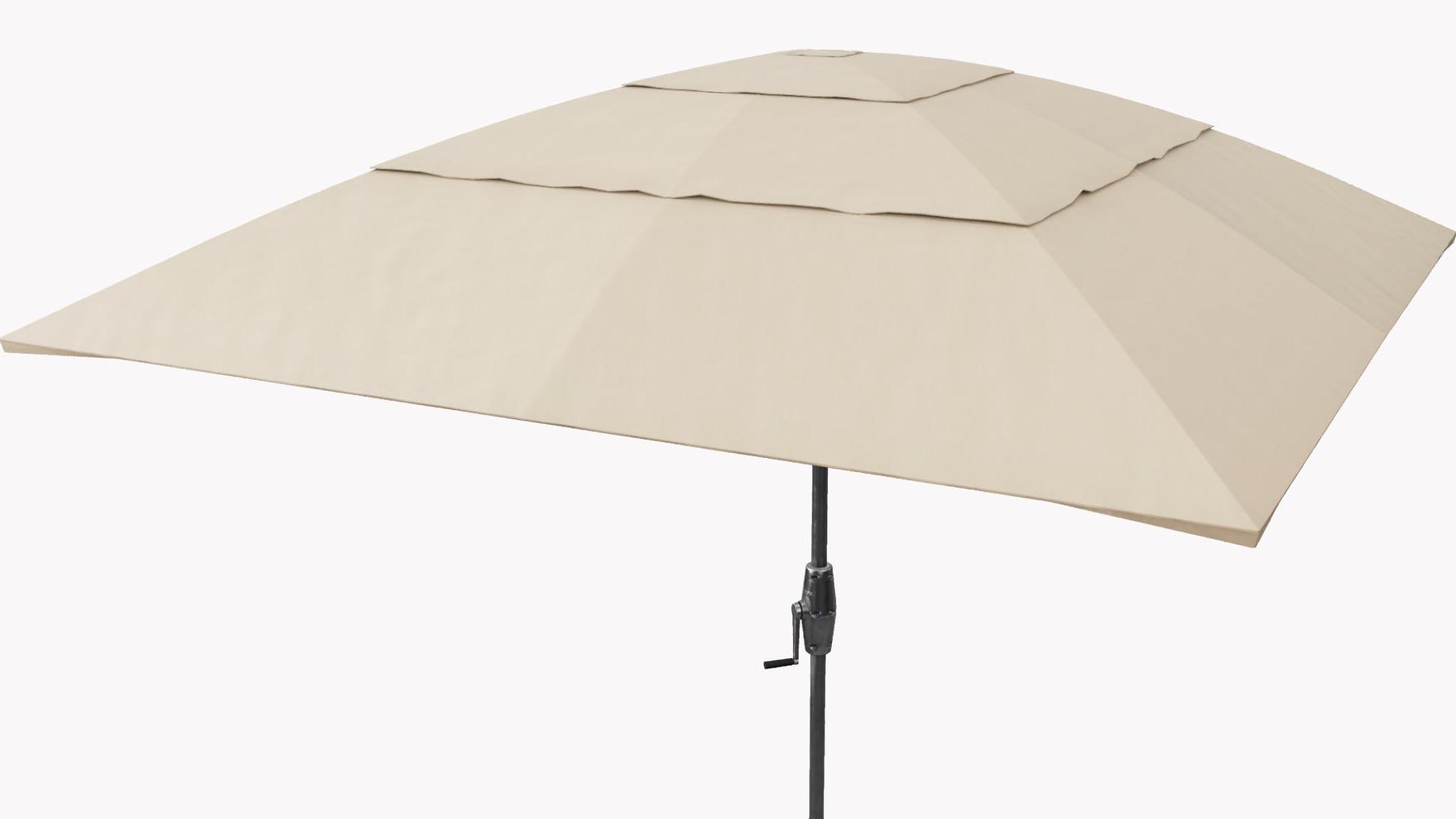 It also saves you from having to deal with unwanted surprises like bird droppings or tree sap which can easily make your day miserable.
Getting a rotary clothesline cover also allows you to relax in your yard with the family even when it's sunny outside--without having to deal with the heat and sunburns!
Getting the best rotary clothesline is as easy as can be if you've read through this article.
We've provided you with awesome tips and recommendations so you don't have to keep searching through the internet to get the answers that you need.
The proof is in the pudding: Cold hard facts and the numbers are all that matter and what we choose to depend on when we make clothesline recommendations.
It's no different from helping a clueless friend in providing the best answer to a question.
If you are looking to consider other types of clotheslines, you might want to check this article out: Best Clotheslines Australia